Category: Nelson
Ski mission up to Lake Angelus in 2014.
By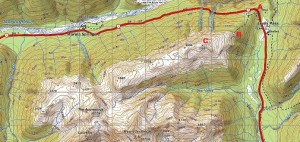 Lewis pass tops offer a classic Kiwi mixed tramping and ski touring experience.
This area is on the main divide and gets its snow from the westerly quarter. Often early season storms from the SW can miss the Canterbury ranges further east but might put a good cover on the main divide. In a case such as this it's worth the drive from Christchurch just for something different.
By
Mt Arthur Tablelands and Mt Peel – 23-26 July 2011
I woke up in the night in Balloon Hut with a freezing arse, and stuffed my foam pad inside my sleeping bag to cover the cold spot. It did the trick! Well I did pick a weekend with the coldest weather forecast for 15 years. Could have been a lot worse; I'd turned down an invitation to snow-hole on the ridge somewhere between Mt Arthur and The Twins. I wondered how Mike and Tony were getting on….
On the plus side, the day dawned calm and clear, just like a fairytale scene. The bush was liberally dusted right down to sea level, Motueka recording the first snowfall since 1974. There was heaps of fresh snow, about 20cm having fallen the day before as I skinned my way from Salisbury Lodge, and overnight, to cover the nearly half meter already on the ground. Continue reading 'Mt Arthur Tablelands and Mt Peel'»
By