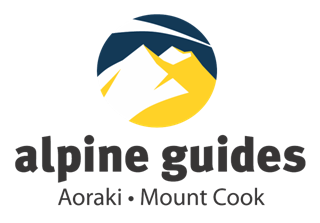 Alpine Guides Ltd. (AGL)  offers a range of ski touring trips, ranging from multiday guided ski tours to instruction courses designed to improve skills and enable recreationalist skiers to explore further into the backcountry safely.  Dates for scheduled courses in 2018 are listed below, however Private courses and trips are able to be run if needed.  We also offer day skiing options through Mt Cook Heliski And Ski the Tasman.
All guides are NZMGA or IFMGA qualified.
Backcountry course
http://www.alpineguides.co.nz/backcountry-avalanche-course
4 day course designed to introduce recreationalist skiers to basic avalanche safety and management.  Covers snow study, terrain management and rescue techniques.  Includes a heliski run in Mt Cook Heliski's terrain.
Backcountry Course:
price: $2150 per-person
BCC1 July 15-18
BCC2 July 22-25
BCC3 July/Aug 29-01
BCC4 Aug 05-08
BCC5 Aug 12-15
BCC6 Sept 09-12
BCC7 Sept 16-19
Ski Mountaineering

http://www.alpineguides.co.nz/ski-mountaineering
Take your ski touring to the next level and learn the skills necessary to move safely in big mountain and glaciated terrain. Based at Tasman Saddle, The SMC is designed to give skiers the rescue and movement techniques to be successful in glaciated mountains through practical experience.
Helicamp
http://www.alpineguides.co.nz/helicamp
Experience the joy of ski touring with the luxury of helicopter access in some of the finest ski terrain in New Zealand.  Helicamps offer the ability to access some remote terrain yet still be able to live in relative comfort.  Dates are privately arranged.
Day Heli-Accessed Ski Touring
https://www.alpineguides.co.nz/heli-accessed-ski-touring
Heli-accessed touring with Alpine Guides opens up Mount Cook Heliski's incredible terrain across 4 mountain ranges for single-day ski and split-board tours. Hiring a guide means there's no need to guess on conditions and avalanche risk. Alpine Guides runs the regional forecasting service.
You'll fly in and be dropped at the of head of your first run, at up to 2,200 m, spending your day exploring some of NZ's best big-mountain touring terrain with a professional guide. Your helicopter will buzz your crew back to base at the end of a thrilling day in the backcountry.
Intro to Alpine Ski Touring
https://www.alpineguides.co.nz/intro-alpine-touring
This course is for experienced ski and split-board tourers who want to raise their game and enter the realm of touring in glaciated terrain. You can join a scheduled course or organise a private trip for you and your crew. The 4-day hut-based trip is run from one of the premium glaciated venues in Aoraki Mount Cook National Park – at Plateau Hut or Tasman Saddle. Scheduled course and private options are available.
2019 Course Dates
July 19-22
July 26-29
Aug 02-05
Sept 06-09
Sept 13-16
Barron Saddle Ski Tour
https://www.alpineguides.co.nz/barron-saddle-ski-tour
Barron Saddle Tour is one of Mount Cook region's classic ski tours. It is a mission for fit, competent and experienced ski tourers. The trip includes a professional guide, helicopter access and hut fees.

The Tour is an achievable mission for competent, experienced ski tourers, preferably with some alpine climbing experience. 3 days allows for a relaxed pace and time to work around weather and snow conditions.
http://www.alpineguides.co.nz/alpine-ski-touring
Private Ski Touring
We can arrange your own private tour throughout Aoraki/Mt Cook National Park and beyond.  We are able to tailor trips to suit most levels of experience.